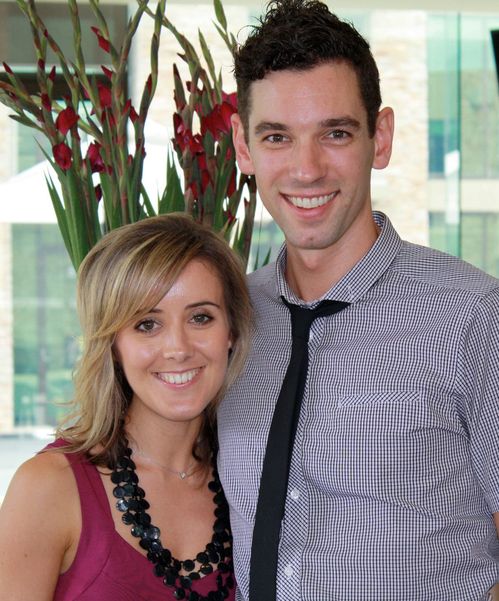 Jacob & Camille Cunningham
Jacob Cunningham is Lead Pastor at Peninsula City Church. Jacob and his wife Camille are happily married and love raising their son Archer and daughter Niah. Jacob has a passion to build the Church and advance the Kingdom of God by seeing people empowered to fulfill their purpose and calling. As a worship leader for some years, Jacob loves seeing lives impacted and transformed through real encounters with God's love and His presence. Jacob loves spending time with his family and friends and barracking for the mighty Hawks!!
Michael & Diyanne Podhaczky
Diyanne and I have served in full-time ministry for over 30 years both in Victoria and interstate. We have three wonderful adult children; we are also grandparents to 3 beautiful granddaughters and one creative and energetic grandson. Both of us appreciate good coffee, curry and enjoy reading widely. I especially love reading theology and Biblical history.

My God-given vocation is to encourage people to nurture their relationship with God and to equip them in their faith to grow to maturity in all area of their life. I delight in guiding leaders and members of our church family to become all they can be. It is a privilege to walk alongside people encouraging them towards our Heavenly Father. At PenCC I am part of the pastoral care team, preaching team, oversee biblical education, as well as assisting our staff to work with and care for each other.
Pastor Natalie is a great connector of people. She loves seeing people find a place where they can thrive and grow. She is married to Steve and they have three amazing daughters. Natalie is a key part of our team, gifted as a worship leader, pastor and communicator. Her love of God and people and commitment to building the church is both inspiring and a blessing to those around her.
Ps Mal and his wife Anita are passionate about seeing people come to a knowledge of God. They regularly oversee the running our our Alpha Course as well as ministering regularly in our services.
Jim is a Guiding Pastor at Peninsula City Church in Frankston on the beautiful Mornington Peninsula. Jim and his wife Jan have two adult sons, Nick and Ash. Their passion is to see people encounter God and become all they were born to be – fulfilling the mission of Peninsula City Church to "reach and renew people." Jim regularly travels to minister with our missions partners in places as diverse as India, Mongolia, Bulgaria, Romania, Vietnam and the USA. Jim is a Victoria Police chaplain and an external oversight member of several churches both within Australia and overseas.
I am married to Tom and have been for 46 great years! Together we have 3 children, all happily married and we are the very proud grandparents of 9 amazing grandchildren. I have been a part of Peninsula City Church for 28 years, being the Women's leader for 20 of those years and now enjoying my role as an assistant Pastor in the Team here for the past 5 years. My passion is to see others released and empowered in their gifting's and call, to serve the Lord, not only within the Church but in the community at large. To see Unity in the Body of Christ and the Kingdom of God advancing, lives rescued and changed, healed and restored to the glory of God.
Pastor Ken and Susan have been part of Peninsula City Church fore more than 40 years and Pastor Ken is a previous Senior Pastor of PenCC who we are blessed to have as one of our team of guiding pastors. Ps Ken has been a key part of our strong focus on Missions as a church, and has led many missions trips supporting our missions partners.
I am passionate about transformation. God has transformed me for the better and I long to see others experience the same through His love and accepting community. I really enjoy people but equally quietness, meditation and stillness. I have 2 wonderful children and have been married to the amazing David for nearly 20 years! We live in Somerville with a menagerie of animals. I am a teacher by training and have spent many years involved training volunteers to support women from prison and their families.
David & Shannon Podhaczky
Dave is Peninsula Churches first youth pastor. Both Dave and his wife Shannon spend most of their time with young people in a variety of contexts, including church, school and camps. His current role includes leading the Youth Ministry team (with a focus on leadership development), Vetamorphus, Red Frogs and State Youth Games. Dave is studying a Masters of Theology part-time at Melbourne School of Theology and also teaches part-time at a local high school. He loves to cycle to work and you may also see him running around the streets of Baxter.
Chaplain Graeme Watkinson CSM RANRet.d is a sixth generation Australian. According to his father's side of the family he is a descendant of Captain James Stirling RN, the first Governor of Western Australia. His mother's side of the family are descended from convicts and the Scottish aristocracy (not necessarily the same thing). Graeme is married to Katherine Ann and he was an ordained minister in the Uniting Church who served many congregations before he was asked to become a Chaplain in the Royal Australian Navy. There followed 20 plus years of exciting and sometimes dangerous service in Her Majesty's Australian Navy with postings all over Australia and overseas. When he retired from the Navy he became an Honorary Police Chaplain and looks after the Police stations on the Mornington Peninsula. Graeme enjoys spending time at the Men's Shed at the Church, cycling with a group, reading, spending time with Kathy-Ann and visiting or being visited by their six amazing grandchildren.
Children's Ministry Co-Ordinator
Candice is married to Richard and they have 5 children, 2 grown up daughters and 3 younger sons. Their eldest daughter is married and they now have a grandson! Together they enjoy home educating their 3 younger sons, as God leads them in this challenge.
Candice is excited to walk with parents in the adventure and never ending joy of raising Kingdom children. Her heart is to see children really know who they are; 'Children of the living God: who loves them, adores them and has a purpose for them". For children to really know this both mind and heart, so out of this identity they can and will live a Spirit lead life, having the foundation to hold them steadfast in life.
Candice enjoys spending time with family and friends, camping, playing cricket, footy, reading and gardening.
Creative Ministries Leader
Rhys leads the Creative Ministries team here at Peninsula City Church, which involves overseeing our Worship, Sound and Media teams.
Rhys has a degree in music performance and works in the Music Industry as well at teaching guitar and bass. Rhys has been regularly serving on church worship teams since he was a teenager and loves leading people in worship. Rhys enjoys sharing his love of music with people and in particular the power of praise and worship to help people engage with God. He is married to Melanie and they have two delightful, loud, energetic children.
Sue is the Executive Administrator here at Peninsula City Church as well as our Treasurer. She also leads our Intercessory Prayer Group .
Terry has been part of our team for over 10 years & her current role is in the Accounts Department & networking with out other admin team members. Her passion is to serve both the church family & the community in whatever capacity is required. "I love the buzz of Sunday Services when we all get together and do church". Terry has 2 adult children & loves a chat ……with coffee!
Melanie lives on the Peninsula with her husband and two children who keep her very busy! She has been a part of PenCC since 2005 and has been on staff for 9 years serving in various roles. She loves helping people and is passionate about helping the church engage and empower people through technology and media.